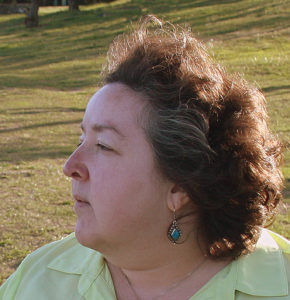 Ann is an artist and often refers to her love of words as a natural compensation after losing her vision in 1993. Once a designer of acrylic displays and furniture, Ann trained her creative senses to flow over
from the visual to the literary arts. Years later, she has become a poet and author, honing her talent in various mediums, including web content for nonprofits, regular bylines for online literary publications, poetry, anthologies and guest editing in online literary journals, just to name a few projects of which she has contributed.
Ann possesses a master of science in Marriage and family therapy from Iona College and an undergraduate degree from the College of New Rochelle, both located in Westchester County, New York. A guide dog handler and advocate, Ann volunteers her time representing people with visual impairments and guide dog users on various National, State and local boards of directors. A consultant and guest presenter, Ann visits schools promoting awareness and equality for people with disabilities. She is the 2015 recipient of the WDOM Spirit of Independence award and the 2019 recipient of the GDUI Leiberg-Metz award for writing.
Ann is available for speaking engagements and is knowledgeable on the following topics:
*writing and creativity
* independent publishing
* recovering and adjusting to vision loss
* emergency sheltering for people with visual impairments
* emergency sheltering for pets and service dogs
* training and working with a guide or service dog
To request Ann as a speaker, please fill out this form!