While visiting Hunt Valley, Maryland last week, I posted a picture of my guide dog, Bailey, lying on the hotel roomed with his rubber bone between his paws. Yes, I know dogs are surely not allowed on hotel room beds, especially not a guide dog. In fact, I did get criticized for it after posting it on Face Book.
I felt obligated to respond to this person because she questioned the standards of my dog's training program and implied the program was somehow lax about the "no furniture" rule for task-trained service dogs. I thought that was rude.
Not sure if this is a provable statistic but I believe the no furniture rule is about 50/50 with dog owners, whether or not said owner is a person with a disability who is working a service dog.
I choose to allow my dog on the bed. He askes for permission first. My other dogs don't go on our bed and prefer the dog beds instead. It really is a matter of preference and only occurs after the bond and mutual trust has been solidified. Right now, as I write this blog post, my sweet Bailey is under my desk with his head on my foot. He is with me, must be assured we are a team and proximity is the key. He is ready to go at a moments notice, loves to work with an indomitable spirit to match.
What the picture does not say is how tough it was for him at this training, how uncomfortable he was lying for 8 hours on a cold, tile floor during the training. Allowing him on the bed to chew a rubber bone was my thanks for enduring the discomfort for four days in a row.
Is the bed thing really that important? It is a matter of preference and I believe it has nothing to do with whether a chosen program is lax or if the handler is using poor judgment. It is about balancing love with discipline and a competent handler knows when to apply one or the other, depending on the circumstances.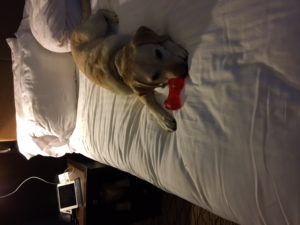 Photo description: Yellow lab on white bed with red rubber bone between paws.