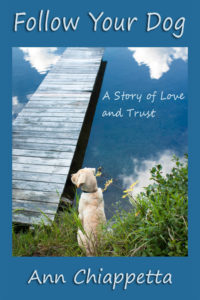 Just in Time for The Howlidays

Hello bloggers and thought-wheel followers, I am excited to announce my memoir, Follow Your Dog A Story Of Love And Trust C 2017 is now available as a commercial audio book from www.Audible.com .
Because I believe anyone who listens to this book will love it, and I also believe many of you will order the book after reading this post, as a special thanks for supporting my efforts as an Indy writer, I will send a gift code for my poetry book, Upwelling: Poems. All you need to do is send an email to anniecms64@gmail.com to receive the link for the free audible book, Upwelling: Poems — and Answer this question : what were the names of the two puppies we rescued?
I know you will love both audio books.
Order Follow Your Dog by clicking here: https://tinyurl.com/v4em87x
Have a Happy, Safe, and meaningful Howliday Season.