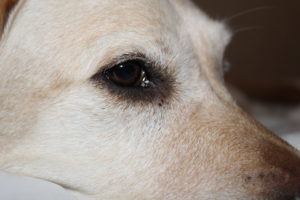 Working with a guide dog brings along perks, like being offered the aisle seat at events, being given the extra leg room seats on trains, and pre-boarding when flying. These, of course, are the obvious advantages.
I would most likely be presented with most of these as a white cane user when traveling without a guide dog, although, perhaps the extra leg room seats would not be part of it. Traveling with a disability can be challenging enough, thank-you.
My dog guides me safely while also assisting in softening the stressors of traveling. A dog also helps with engaging in social events.
A few of the little-known perks are humorous, along with being practical. For instance, my dog, like many other guide dogs, is an expert at finding friends and family during parties and in crowds. Both my current dog and my retired dog have found my husband or other guide dog users countless times. They are creatures of habit and will most likely show the handler familiar locations and individuals. I think of it as, "Hey, is this the door you want? Or Hey, we know this person, maybe you want to talk to them again so I can say hi to their dog?
The most recent time I recall being surprising as well as useful was during a convention. Upon exiting the elevator, Bailey began pulling harder and I knew he was on a mission. He brought me up to my friend and her new dog. The same friend who trained beside us for two weeks when I first got Bailey. It was very smart, for a dog. 😊 I didn't even think he would remember her, but he did. We also had this sneaking suspicion Bailey and her new dog, (not the one who trained with us) and Bailey knew one another from the kennel, acting like old friends.
Some folks say being a guide dog user is too-time consuming, that it's all about the dog, and the extra attention is difficult to manage. Personally speaking, I prefer the social and travel advantages my dog provides. It far outweighs the annoyances.